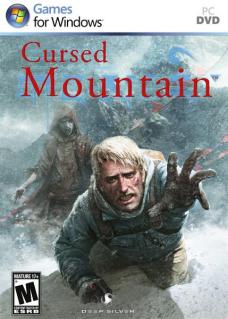 rsed Mountain * REPACK * Multi 4 - Team JPN | 2.65 GB
Year: 2010
Genres: Action (Shooter) / 3D / 1st Person
Developer: Sproing Interactive Media
Publisher: Deep Silver
Platform: PC
Size: 2.27 GB
System requirements:
* Operating system: Windows
XP or Vista
* Processor: Pentium 4 with frequency of 3.2 GHz
* Memory: 1 GB (2 GB recommended)
* Video card: NVidia 6800 or ATI X1650 or above with Shader Model 3.0
* Free space on hard drive: 6 GB
Description: The action of mystical quest Cursed Mountain is set in the late 80th years. The protagonist of the game in the face
of the fearless climber Decides to climb the Himalayas to find the missing brother. This is where the fun begins ...
Game features:
* Risky expedition to Tibet in the dark, revealing the ancient secrets of Buddhist monks
* Deadly traps and fight for survival in harsh climatic conditions
* Huge interactive world: the game is not divided into levels, the study - in the free mode!
On the file:
Publication Type: Repack
Language: Tiếng Việt, French, Jerman, Spanyol
Crack: pills enclosing
File format:. Iso
Platform: PC
º Unrar º
º Burn or Mount º
º Disable UAC (Vista, Windows7) º
º install (need 1 GB Ram + 10 GB Free Disk) º
º Driver For Ati
http://ati.amd.com/support/driver.HTML
º
º Nvidia Driver
http://www.nvidia.com/Download/index.aspx?lang=en-us
º
º Playº
LINKS DOWNLOAD
hotfile.com Cursed_Mountain_Repack_by_Snupi.part01.rar.html
hotfile.com Cursed_Mountain_Repack_by_Snupi.part02.rar.html
hotfile.com Cursed_Mountain_Repack_by_Snupi.part03.rar.html
hotfile.com Cursed_Mountain_Repack_by_Snupi.part04.rar.html
hotfile.com Cursed_Mountain_Repack_by_Snupi.part05.rar.html
hotfile.com Cursed_Mountain_Repack_by_Snupi.part06.rar.html
hotfile.com Cursed_Mountain_Repack_by_Snupi.part07.rar.html
hotfile.com Cursed_Mountain_Repack_by_Snupi.part08.rar.html
hotfile.com Cursed_Mountain_Repack_by_Snupi.part09.rar.html
hotfile.com Cursed_Mountain_Repack_by_Snupi.part10.rar.html
hotfile.com Cursed_Mountain_Repack_by_Snupi.part11.rar.html
hotfile.com Cursed_Mountain_Repack_by_Snupi.part12.rar.html
THANKS FOR DOWNLOAD