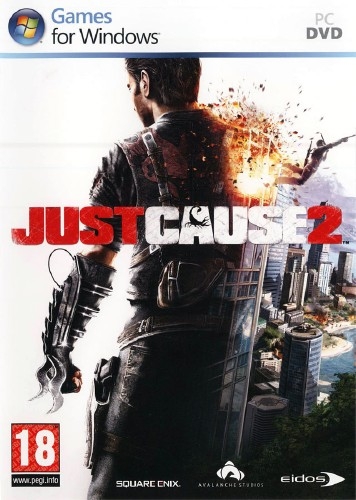 Just Cause 2 | PC | 1.16 GB
Genre: Action, third-person shooter, Sandbox
The game begins with Agency Agent Rico Rodriguez being dropped into the South-east Asian island nation of Panau. Formerly a US ally, Panau is taken over by Baby Panay, who institutes a harsh, oppressive dictatorship and cuts off all ties to the US. Rico's mission is to oust Panay from office, as well as track down and assassinate Tom Sheldon, who the Agency fears has gone rogue after disappearing during the regime change. In order to find Sheldon, Rico allies himself with the three dominant criminal gangs on the island: the Roaches, the Reapers, and the Ular Boys. He eventually gathers enough information to track down Sheldon, who reveals that he's been investigating a larger conspiracy behind Panau. He tells Rico to continue causing chaos on Panau while he goes to explain the situation to the Agency.
Later, it is revealed that the Roaches, Reapers, and Ular Boys are secretly being supported by Russia, China, and Japan respectively in an effort to bring down Panay, but Rico and Sheldon wonder what Panau has that is able to attract such dominant superpowers. Nonetheless, Rico and Sheldon track down the foreign intelligence officers liaising with the gangs and assassinate them. At this point, the island is in so much chaos that Panay is forced to leave the capital and take refuge in a fortified military base. Enlisting the aid of the gangs, Rico assaults Panay's hideout. Panay is apparently killed during the assault, and Rico discovers that Russia, China, Japan, and the US have been secretly fighting over Panau for its oil supply, which is supposedly the richest in the world...
Installation notes:
1. extract with freearc the arc file in the main folder of the file the freeware FREEARC is needed to extract the arc file or you can download them ...
2. move the extracted folder to the desktop
3. run the Globe Converter.exe and follow the console instructions
4. the work finished when a 45 seconds music file plays in the your default mp3 player in the computer
5. when the game ready don?t forget to move the pc4.arc file and the pc4.tab file inside the archives_win32 folder
6. start the game with JustCause2.exe
7. PLAY THE GAME !!!
IMPORTANT NOTE : AVG ANTIVIRUS USERS MUST SHUT THE PROTECCION SHIELD FEATURE IN THE AVG PROGRAM , THE REST CAN STILL ACTIVE , THIS HAPPEN BECAUSE THE steam_api WAS WORKED AND GETTED A LITTLE DIFFERENT STRUCTURE THAT CAN BE RECOGNIZED AS A VIRUS FOR SOME ANTIVIRUS
PROGRAMS , OF COURSE THE FILE IS SAFE . THAT IS A FALSE POSITIVE
LINKS DOWNLOAD
shareflare
---
shareflare.net JustC2.rar.html
letitbit
---
letitbit.net JustC2.rar.html
THANKS FOR DOWNLOAD